FIELD REPORTING

Want your officers to be able to lookup information and write reports in the field? When it comes to field reporting why spend more money to buy a different or separate product? Crimestar let's you have it with or without a digital radio connection.

Take advantage of your user training and system familiarity by using the same product in the field as you use in the office.
Have all the powerful search and reporting capabilities of your
office RMS with you on the road!



With the CrimeStar Database Synchronization utility (included as part of the RMS product) you can! Simply install and run Crimestar RMS Professional on a laptop computer.

* The Crimestar License Agreement allows you to install RMS Professional FREE on one (1) laptop for each concurrent user license you purchase for your department's office system.


That's two licenses for the price of one!



Then connect your laptop(s) to the network, run the database synchronization program and tell it where on the network to locate your master database, and click the synchronize button. The synchronization program will then transfer all your field reports, master names, photos etc. to the host system and optionally transfer any new data on the host system to your laptop. When the process is complete simply disconnect your laptop from the network and you are ready to go!

You can even use a convenient and securely encrypted wireless 802.11g connection, to synchronize to your network when you drive your patrol car into the station's parking lot, without ever removing your laptop from your car!


NO


* Expensive Equipment to Buy
* Complicated Radio Systems
* Monthly Connection or Service Fees
The Synchronize program is very simple you configure and use. Optionally, you can choose which database tables or files to synchronize. Once the program is configured it remembers your settings so it is ready to go the next time you run it.....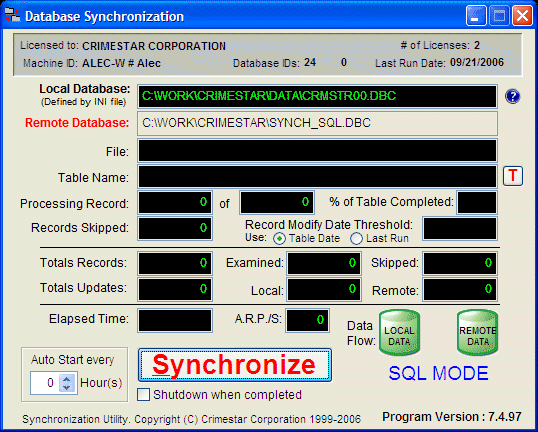 * Installing Crimestar RMS on your laptop may require the purchase of an additional product licenses.
Be sure to read the Crimestar License Agreement for the laptop exception that allows you to install and
run Crimestar RMS on one laptop for each concurrent user license you purchase for your office.