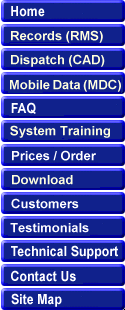 The CrimeStar Computer Aided Dispatch (CAD) systems is a powerful real time command and control process, that tracks information relating to all ( Police, Fire, EMS and Public Works ) calls and field unit activity. Designed for use with our popular CrimeStar records management system (RMS), this flexible drag & drop enabled system is ideal for agencies large and small. The system can be run standalone or from within the records system
giving the dispatcher access to all the powerful search features and information contained in the RMS. Crimestar CAD utilizes a powerful control panel that supports all transaction types using either the computer mouse or keyboard. A traditional command line feature gives experienced dispatchers the kind of rapid heads down work environment they are used to.

Crimestar CAD also utilizes multiple sizable status windows which allows the dispatcher to see everything at a glance and work with any unit at anytime.

Support for dual monitors and the ability to drag & drop units across monitors makes it easy to create a powerful work environment that makes tracking multiple units and events simple. The CAD workstation can be used solo or as part of a local area network that allows multiple dispatchers or call takers to control the system. In addition to the powerful capabilities of CrimeStar CAD, the system can be extended out into field computers as a full Mobile Digital Dispatch solution!

Download an Evaluation copy of Crimestar RMS and CAD and give it a try!
See why Crimestar CAD is the easiest, most efficient and most cost effective
dispatch system available.
| | |
| --- | --- |
| * To utilize Crimestar CAD, you must have at least one Crimestar RMS license. | |

Background in CAD: The principle architect of the Crimestar CAD system has a long history of working with various Computer Aided Dispatch systems in law enforcement and was the project manager for one of the early third generation open architecture micro-computer, LAN based dispatch systems which went live in 1992. Read about that original project as published in the May 1992 Issue of APCO Bulletin.