Unlike most master indexes, the Master Name Index Module is a true Master reference for a
person. This module provides you with the ability to capture basic identifying information about a subject. It also permits you to track a subject address and telephone number history and any alias names that the subject has been known to use. This module also utilizes a Known Offender concept where specific traits and characteristics about a subject can be maintained. You can also store multiple photos of the subject referenced by date.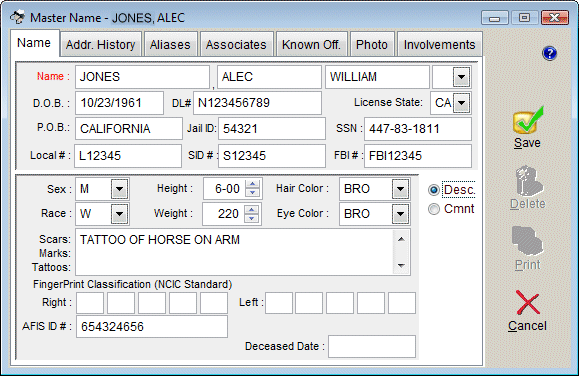 Use Investigative Alerts to notify you when another officer may be investigating your confidential informant.

Keep track of an unlimited number of addresses known to be associated with a person. This is particularly useful when investigating older incidents where knowing a subjects past address is more important than knowing there current address.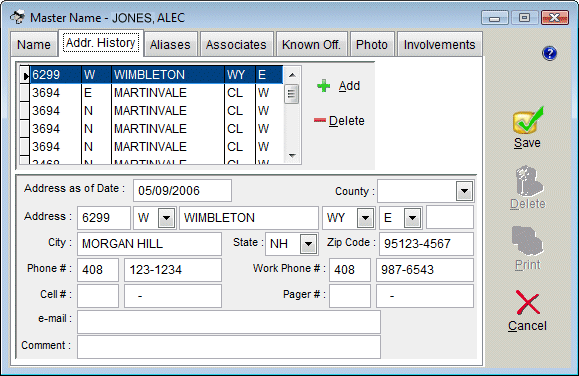 Keep track of an unlimited number of alias names, including DOB and alias Social Security Numbers associated with a person. Since the Crimestar query/search system automatically handles diminutive names such as William=Bill, Robert=Bob, etc. the alias names page can focus on TRUE alias, alternate or maiden names which can be invaluable information when trying to identify people.



Track an unlimited number of known associates and the relationship of that associate. Relationship linkages are table driven via the system configuration to provide consistency throughout all Master Name Index records. This tool allows Master Name Index records to be linked directly to other Master name Index records via a known association.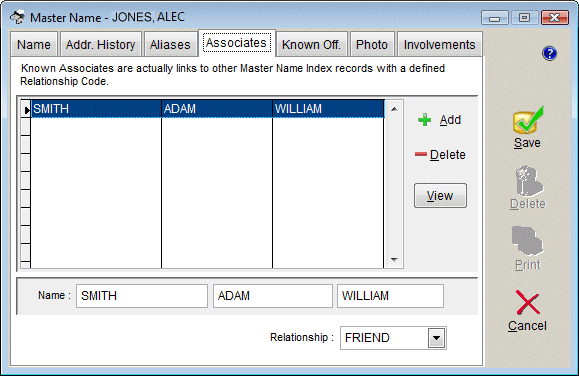 Track Known Offender information and specific user configurable physical attributes to provide incredibly powerful search capabilities. Caution flags can help trigger popup alerts to notify users of special conditions and safety issues when a flagged MNI record is hit as a result of a search.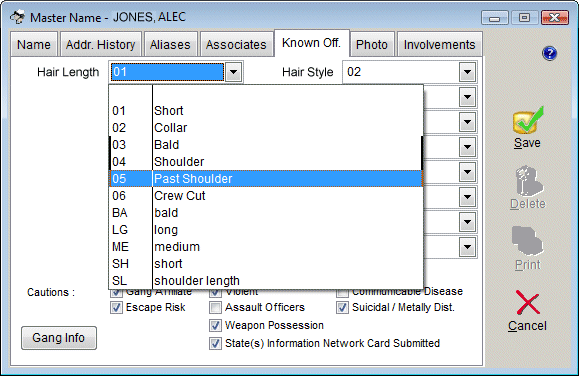 Capture and maintain a virtually unlimited number of digital photos for each person. Each digital photo has a reference date to determine the age or time frame when the photo was captured.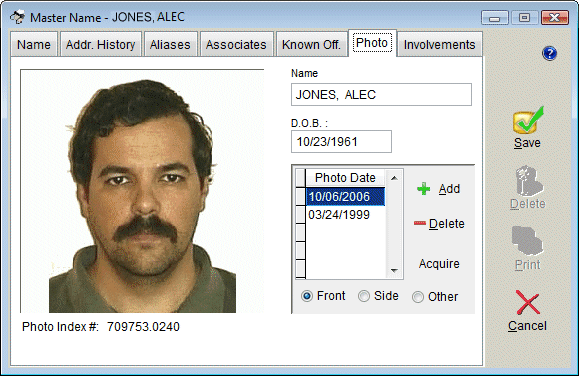 PHOTOS: Place digital photos into the CrimeStar database using:
Hand-Held digital Camera
We recommend digital cameras that store images to floppy disk.
Attached Video Camera
Any 'TWAIN' compliant video camera will work.
Flatbed Scanner
In addition to the Master Name Index photo shown here CrimeStar provides you with a quick and simple tool to create 6 or 8 image photo lineups. You can either scan through the photo database to select images or you can drag and drop an image directly from an MNI record onto the lineup form.

In addition to knowing about the subject it is important to know what the subject has done or has been Involved in. This is handled by an Involvement table which serves as a limited snapshot to the subjects activities and contacts in the system. This Involvement file also maintains a linkage to each source document which created the Involvement. From a Master Name record you can branch to any specific record or document associated with that subject. This Involvement linkage serves as the foundation for a series of powerful link analysis investigative capabilities.