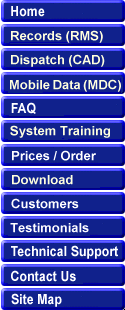 The animal control module provides a method to track animal type, owner information and all related contacts associated with animals in your community. Those contacts could be for the purpose of issuing licenses or may be enforcement actions regarding animal related complaints.

Animal & Owner Section

The Animal and Owner section provides the basic static information about both the animal and the owner as well as other related information. This page can be updated as needed to always reflect the most current known information. Owner names are linked to the Master Name Index Module and each animal control record has a related link in the Master Name Involvements.


Animal History Page

The animal history page tracks the date and time a contact was made with a specific animal as well as the contact type, location and disposition of the contact. Multiple contacts for the same animal are displayed at the top of the page in reverse chronological order.