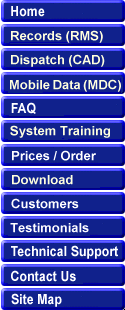 Privacy Policy

THANK YOU for visiting the CrimeStar Web site and reviewing our privacy policy. Your privacy is of great importance to us and our Web site has been developed with that in mind. We recognize your right to know what information is being collected about you and how that information will be used, as well as our legal obligations to limit collection and protect what we do collect.

Our Internet privacy policy is:

You do not have to give us personal information to visit our site. We collect personally identifiable information (name, email address, or other unique identifier) only if specifically and knowingly provided by you. In some cases, the personally identifiable information you provide will be used to merely respond to your electronic inquiry. If we ask you to provide personally identifiable information in order to take advantage of a product or service and we
maintain that information, you will be specifically told the purposes for collecting the information and the potential uses of it. Information provided by you is never sold, leased or otherwise provided to any third party and is used strictly to provide customers and site visitors with better service and support. This web site uses cookies (a file placed on your hard drive by a Web site that allows it to monitor your use of the site) for limited purposes that enable your use of and improve the functionality of our Web site. Our use of these cookies does not directly or indirectly identify you personally.
Information collected from e-mails and on-line forms

Some of our Web pages allow you to send us an e-mail. If your e-mail message includes personally-identifying information, for example, in an electronic mail message containing an inquiry, we will use that information to respond to your inquiry. In addition, in some cases, it may be used to send you follow-up information about products and services. Remember that e-mail is not necessarily secure against interception. If your communication is very sensitive, or includes information such as your name, home address, charge card information etc. you should consider sending it by regular United States Postal Service mail.

Security -- Detection of unauthorized intrusions

For site security purposes and to ensure that we remain available to all users, this computer system employs software programs to monitor network traffic to identify unauthorized attempts to upload or change information, or otherwise cause damage. Except for authorized law enforcement investigations, no other attempts are made to identify individual users or their usage habits.