CRIMESTAR IS FBI NIBRS COMPLIANT

Crimestar provides the ability to produce output files (on disk) compliant with the FBI published National standards for Incident Based Reporting (NIBRS). These output files can be submitted to your respective state via disk, email or whatever media is authorized and acceptable to your respective state.
Output files contain:

Level 1: Administrative Segments
Level 2: Offense Segments
Level 3: Property Segments
Level 4: Victim Segments
Level 5: Offender Segments
Level 6: Arrestee Segments
Level 7: Group "B" Arrest Segments
Once the desired Month, Year and Agency have been selected, The NIBRS file generator examines all the data to ensure that it conforms with the editing rules and mandatory conditions as specified by the FBI and notifies you of any errors or corrections to be made.



Once all the data to be submitted is known to be correct and valid for submission the NIBRS file generator allows to optionally select a subset of records/segments to be submitted or resubmitted on behalf of the agency.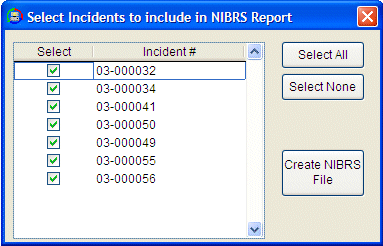 Since not all jurisdictions or states participate in the NIBRS reporting process, Crimestar can be configured to enforce or not-enforce the additional NIBRS data elements and stringent editing rules. When NIBRS processing is turned on, coding and classification of Incidents and Arrests are done as part of the core data entry to the system, while generating the NIBRS output files/reports is handled via a simple menu form allowing you to select the Month, Year and Agency data to report.