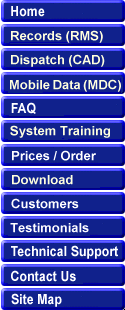 **** CRIMESTAR IS NOT AN INFORMATION SERVICE BUREAU ****
THIS SOFTWARE IS DESIGNED FOR LAW ENFORCEMENT AGENCIES TO STORE AND MAINTAIN THEIR OWN DATA. THIS SOFTWARE WILL NOT ALLOW YOU TO SEARCH EXISTING LAW ENFORCEMENT DATABASES TO OBTAIN INFORMATION ON FRIENDS, RELATIVES OR OTHERS.

---
Existing Customers: Download your updates HERE!
Non-Customers: Download your FREE 90 Day Evaluation HERE!
Please provide the following basic information, and press the "Download Software" button.