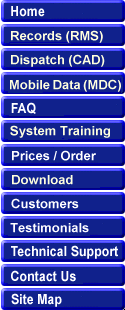 CAD vs. CFS

What is CAD? : A CAD or Computer Aided Dispatch systems is a real time command and control process. These systems are used to track in real time all information relating to calls and units. These real time command and control systems are often interfaced to E911 call systems to route calls between telephone call takers and dispatch operators. CAD systems are often programmed to monitor officer's elapsed status times and notify dispatchers to check on the safety of officers after defined periods of time. They also interact with Mobile Digital devices providing rapid and secure communications between dispatchers and field personnel.

What is CFS? : A CFS or Calls For Service systems is typically an after the fact tracking system which is used to record specific information concerning calls and responding field units. A calls for service system tracks much of the same data as a CAD system however it lacks all the logic necessary to perform specific unit status tracking and focuses only on the event. While a Calls For Service module is typically not used in a real time environment, the Crimestar calls for service module does permit you to have multiple call screens open and active at the same time. Therefore a dispatch operator can use the CFS module while in the dispatch center to capture the information on more than one activity at a time.

What CAD and CFS is not! : While both are integrated with RMS, neither CAD or CFS are RMS incident reporting systems! In other words; they are both specifically designed to only record information regarding field calls or events as it would pertain to a 911 call center. Dispatchers and call takers only know what they are being told, and that many times callers are either not truthful about certain facts or simply don't have the facts. In busy call centers dispatchers simply don't have the time to capture the numerous details that would normally be recorded as part of an incident/crime report anyway. Therefore, we believe that it is not and should not be the role of a dispatcher or call taker to try to capture extensive RMS Incident related data (names, addresses, dob etc. of all involved parties, vehicle makes models etc., stolen property items and serial numbers etc. ) as part of CAD/CFS except to the extent that similar specific information is relevant for the safety of the responding officers. Instead that detailed RMS Incident related data should be captured by the responding officer(s) who, by virtue of being there in person, can very via observation and or supporting documentation information about related persons, vehicles and property. Restated, let Citations, Field Interview Cards, and Incident reports capture the verifiable records related data and keep CAD/CFS focused on being simple, fast and flexible so as to gather basic call information and get resources deployed in a safe and timely manner.

Do We Need CAD? : If you are a small agency that typically has fewer than 2 or 3 units in the field at any one time and don't need mobile digital communications (i.e. MDC's) the answer is; probably not! Our Calls For Service module would likely give you all the functionality and capability you need as far as capturing information about calls and searching or reporting on that data. If you do decide that CAD is needed in your department, the Crimestar CAD system provides you with the CAD functionality and feeds all closed call events into the Calls For Service module where you can take advantage of our systems inquiry and reports capability.