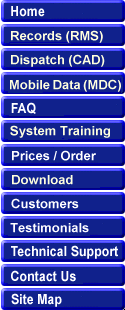 The Arrest & Booking module is the entry place for ALL arrests made and subjects held in custody. This module is used in conjunction with the jail module and the incident module in circumstances where subjects related to an incident are arrested. This module captures all the identifying information about a person, any associated vehicle and all the circumstances surrounding an arrest such as what agencies were involved, the charges being filed, charge dispositions, bail amounts, personal property inventories and much more!
Booking photos can be captured directly from this module using a TWAIN compliant camera. This module can also capture FBI UCR and NIBRS related data to meet those Federal mandatory reporting requirements.

* All names are linked into the Master Name Index
* Vehicles are Linked into the Master Vehicle Index
* Addresses are linked into the Master Address Index.

A custody log allows you to track the physical locations or cell where the subject is being housed. This multiple entry sub-table permits you to track and maintain a history of all cell assignments or movement within a facility. Additionally you can use this as a log file for in-custody status or safety checks performed while the subject is in your custody. This is the same log used within the jail management system eliminating duplicate entry and keeping jail data current.
BOOKING INTERFACES
The Booking Module has been designed to interface with and transfer data to Live Scan fingerprint systems and Automated Bail Payment systems using an FTP file transfer of an XML data file:

| | |
| --- | --- |
| Currently Interfaced with the ID Networks FingerRoll system based on the Wisconsin Specific XML Elements. | |
| | |
| Currently Interfaced with the CrossMatch Technologies LiveScan Demographics transfer based on the Tennessee Specific XML Elements format. | |
| | |
| Currently Interfaced with the MorphoTrust / Identix LiveScan system based on the California and Colorado "b.txt" file formats and the Illinois Specific XML Elements format. | |
| | |
| With the Court Solutions LLC Interface (which is already included in the Crimestar the Booking Module) you can easily, at no cost to your agency, allow arrestees to make bail payments using a credit card! Just Activate Your Account with Court Solutions, configure Crimestar to send the arrestee's bail information and you are ready to go! | |
Products mentioned on this page are the trademarks of their respective owners and are used only for reference and for editorial content.